Wildcat Run Charitable Foundation, Inc.
BOARD OF DIRECTORS
President
Karen Dodge

Vice President
Peggy Dodge

Secretary
Sue Lyons

Treasurer
Jennifer Yattoni

Directors
Suzanne Hoffman
Mary Karas
Pam Polcar
Polly Sample
Sharon Hayward
The Wildcat Run Charitable Foundation would like to welcome our newest members, Jennifer Yattoni who has agreed to accept the role of Treasurer and Polly Sample, our most recent Director.
We would like to thank our outgoing member, Linda Scalley for her many years of hard work as Treasurer for the Foundation.
Please reach out to any one of us with questions for information regarding committees or how you can help the Foundation.
There are several committees where volunteers can provide service hours to some of our charities.
As always, thank you all for your support!!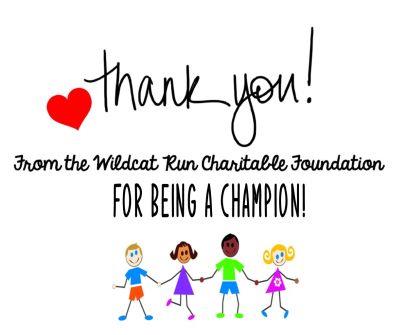 2023-2024 Champions Drive Information:
Click Here for Cover Letter
Click Here for Donation Form
--Foundation History--

The Wildcat Run Charitable Foundation Inc. is a 501(c)(3) non-profit organization established to providing people in the community an opportunity and financial vehicle to encourage, support or improve the lives of children in Southwest Florida.

The Foundation idea started in 2011 and by 2013 was established as a nonprofit corporation. The original leaders were Gina Turkel and the late Mary Ann Casey, who was the first president. Since then, through the generosity of Wildcat Run residents the foundation has contributed over a million dollars to charities which focus on the needs of at-risk children.

As we are contacted by charities for donation requests, we spend time visiting the facilities and reviewing the finances and activities to ensure that our funds go to deserving and efficient charities.

The Foundation Board establishes various fundraising activities each calendar year to support donation requests. The main fundraising event is an annual golf tournament with dinner and a charitable auction. Over the years, the Golfing for Kids events haven been very successful and have raised over $80,000 each year.

Other fundraising activities include raffles, games, appeals to residents and contributions in memory of Wildcat residents.

The Annual Golf Tournament was held on April 1, 2023, and was a great success. While the results are still being audited, we anticipate approximately $100,000. We are currently reviewing requests for donations as school starts.

--Some of Your Donation Dollars at Work in 2022--

Valerie's House received $15,150. This charity works with children who have lost family members and who need counseling and support. Valerie's House uses art and music to help children express and heal their pain.

Wings of Shelter received $35,000. This group operates safe houses in Southwest Florida for minor children who have been rescued out of Human Trafficking. They provide trauma focused mental health counseling, medical care, private schooling, tutoring and re-socialization activities.

Blessings in a Backpack received $25,000. This organization provides food on the weekends for school-aged children who might otherwise go hungry.

Eva's Closet received $57,683. This charity provides assistance to people in need due to homelessness, poverty and other risk factors in Southwest Florida. They provide necessities such as clothing, shoes hygiene items, baby supplies and school supplies. We have a team of members who help to sort and package donated clothing items for children.

James Stephens Elementary School in Fort Myers received $15,000. This school serves children in a community which has a low income rate with difficult family situations. We were able to provide winter jackets for the students in addition to other funding.

Juvenile Diabetes Association received $2,000. This nationwide organization focuses on the care of children with juvenile diabetes and works to find better treatments, preventions and ultimately a cure for type 1 diabetes and its complications thorough critical research.

Liberty Youth Ranch received $15,000. This local group is a private, self governing organization dedicated to the needs of abused, abandoned and orphaned children. The Ranch seeks to provide a permanent and loving environment for children who, through no fault of their own, are in need of a home, a family and the opportunity simply to be children.

Gabriel House received $6,000. The Gabriel House is a loving compassionate, Christian home located in Fort Myers for abandoned, displaced, underprivileged children who are in need of medical treatment. The primary mission is to rescue, clothe, feed, educate and house children in need and to provide medical care.

The Immokalee Foundation received $20,000. The Foundation works to empower children and young adults to change the course of their lives through education and support. Students come from situations where English may not be their first language and where a college degree or a career are mere dreams.

The National Fires Safety Council received $300. The Council creates and develops high quality fire safety education materials and programs to assist U.S, Fire Departments in their community education efforts.

Thanks again to all of our generous donors!