Wildcat Run Charitable Foundation, Inc.
News of changes in the Wildcat Run Charitable Foundation Board.
Both Chris Wheeler, President and Patti McNeiley, Director have submitted their resignations. We thank them and appreciate their service and time on the Board.
The new Board Officers were elected on June 1. We also approved the addition of two new Board members.
The new Board is as follows:
President Karen Dodge
Vice President Peggy Dodge
Secretary Sue Lyons
Treasurer Linda Scalley
New Directors are:
Suzanne Hoffman
Pam Polcar
Mary Karas, director remains on the Board.
Please reach out to anyone of us with questions or information regarding committees or how you can help the Foundation.
As always, thank you all for your support!!
A big THANK YOU to everyone who helped to make our Golfing For Kids Event the best ever!! Wouldn't it be great to have Griffin and Jack on hole one every time?
We had wonderful success in raising over $80,000!!!
We couldn't have done it without the support and efforts of all involved!
This week we wanted to share that we sent out $60,000 to several of our charities.
As we review the final numbers we will be adding to that total. It's such a great feeling to deliver these checks knowing we will help some very deserving children.
We appreciate your support for this, our major event, and for your support all year long!
Thank you,
The Foundation Board
Your donation dollars at work:
We are happy to share that we have recently sent a donation to the JDRF (juvenile diabetes research foundation) on behalf of our Wildcat Run members. Many of us have been touched in some way by this disease. We are happy to be able to support research efforts to find better treatments and ultimately a cure!
Again, thank you all for your generous donations to our Foundation!
The Wildcat Run Charitable Foundation met last week with the purpose of allocating funds to many of our charities. While our funds are less overall, due to a successful champions drive we were able to disperse monies to ACT, Children's Advocacy Center, Gabriel's House, Eden Park Elementary, KKids, Valerie's House, and Wings of Shelter!!
As always thanks to all of you! We appreciate your generous contributions and support of the Foundation.
Thank you to our generous donors!
Below are excerpts from thank you notes the Foundation has received for our holiday gift giving donations.
From Angela Melvin Founder and CEO of Valerie's House
"I wanted to thank you so very much for the generous donation the Wildcat Board made to Valerie's House this month. It will be so helpful to us and I just can't thank you enough. I wanted to make sure you knew how much this means to all of us here and it will bless many lives. Thank you so much for believing in us"
Angela
From Lowell and Sally Senitz of Wings of Shelter

"Thank you again for your continued support. We so appreciate your support of Wings of Shelter and the work we are doing with minor females rescued out of Human Trafficking.
Thank you for your prayers. ""Please pray for continued operation support (we have definitely felt the impact of Covid-19") "God Bless"
Lowell and Sally
From Janet Ortenzo President Board of Directors, SWFL Coalition Against Human Trafficking

We add a special "Thank you" to Bud Stoddard for Introducing Janet and her organization to us!
" Thank you all so much for your generous gift to the SWFL Coalition Against Human Trafficking. Please know that your donation is much needed and greatly appreciated . Please know that 100 % of your gift will be used to meet the needs of trafficked children and teenage survivors.
May you and your families be richly blessed for your generosity and kindness in this holiday season and always " Sincerely , Janet Ortenzo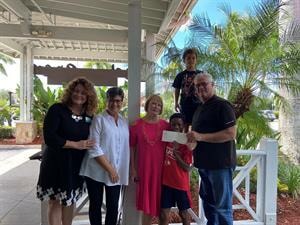 Meet a new Wildcat Charitable Foundation charity.....Kkids, Inc
A faith based safe home for children and at risk children....and so much more!
Photo is of Karen and Scott the founders along with Mary Karas, Chris Wheeler, L.J. And Aiden.
For more information please click here .
Click Here for Kkkids, Inc Thank You Note!!
Please click here for a heartfelt Thank you from Valerie's House.
Chris Wheeler, Linda Scalley and Karen Dodge visited Valerie's House in Fort Myers.
They toured the facility with founder Angela Melvin and gave a donation for needed supplies. Valerie's House uses art and music to help children express and heal their pain. Angela lost her Mother at age 10 due to a car accident and as a result, Angela wanted to help others experiencing similar situations. She began Valerie's House five years ago as a nonprofit organization to help families work through the loss of a loved one. Her vision being ..."that no child will grieve alone". Wildcat Run Charitable Foundation was her first major supporter creating a special bond between our two organizations!
As always, thanks to all of the Wildcat Run generous supporters!
As with all of us the pandemic has brought challenges. Unfortunately, the residents of Immokalee Florida have faced especially hard times.

As a result, we were recently made aware that the Eden Park Elementary School was in need of writing kits for their students.
Last week, Chris Wheeler and Linda Scalley visited the school and presented the Principal and Assistant Principal
with a $1200 check for the needed supplies!! Chris and Linda were impressed with all of the "Best Practices " in place for opening the school.
Thanks again to all of our generous donors!



BOARD OF DIRECTORS
President
Karen Dodge

Vice President
Peggy Dodge

Secretary
Sue Lyons

Treasurer
Linda Scalley

Directors
Suzanne Hoffman
Mary Karas
Pam Polcar